I mentioned in yesterday's post that part of the reason I gave up on previous Beekeeper's Quilt attempts was due to my dislike of how different textured yarns felt together and knit up.  I had 100% Peruvian Highland Wool, mixed with 75/25  superwash wool nylon mix, 100% superwash merino, etc.  It was just too much and I got distracted by it all.  So this time I have decided to use just 100% merino wool, either superwash or not.
When I originally became obsessed with this pattern a few years ago, lots of mini-skeins packs started to appear on Etsy.  I was pretty haphazard with my collecting of mini-skeins and ended up with minis made from any number of fiber combinations.  I was looking only at the color of the minis instead of the content as well.  So I have some mini skeins that may never become anything or will be given away to my knitting pals.
Right now I have 3 main sources of yarn for this project – all types of mini-skeins to provide enough variety to keep me entertained and chugging along!
1. Chiagu's Koigu Mini-Skein Club – What lover of skinny yarns doesn't love the yummy feel and scrumptious colors of Koigu?  I absolutely love this mini-skein club and have been a part of it since late last year (I believe).  Each month you receive 6 mini-skeins (about 25 yards each) of different Koigu yarns.  Each shipment is packaged efficiently in a clear zipped baggie with pictures AND the yarn number listed.  I wish I had taken more care in those earlier months because I have misplaced the slip for several of the mini-skeins, but I'll do some sleuthing and see if I can narrow it down from the Koigu website.
2. Mermaid Knitting Etsy Shop – Sweet Lord, are these mini-skeins gorgeous and priced just right!  Diane packages mini-skeins using yarns created by fiber artist Rhichard Devrieze.   Rhichard used to dye yarns for Koigu and his signature carries over to his new colorways.  What I love about these mini-skeins is that you can get yarn packs in varying weights and lengths, depending on your needs.  I personally love the 12 yard a mini-skein packs.  I wish that the colorways were included in the packs upon purchase so it would be easy to locate and purchase a full skein, but it offers a perfect excuse to click through Rhichard's Peppino Merino Fingering collection on his website.
3. Etsy seller BlackTrillium: Gradient Yarn Kits – With all of the variegated and stippled yarns I have from my mini-skeins, I really wanted some solids to throw into the mix.  I originally started with Koigu solid mini-skeins from Purl Soho, but they just didn't cut it.  They were a bit pricey and the shipping was quite expensive.
So I was on the hunt for something new when I came across these absolutely AMAZING gradient color kits on Etsy.  With purchase of a kit, you receive 5 gradiented skeins, 33 grams and 127 yards each.  The price is great too.  I seriously want them all.  I settled for the one that originally caught my eye though.  I purchased the Pebble Sock, in the Naiad colorway.   I can't wait to see them in person.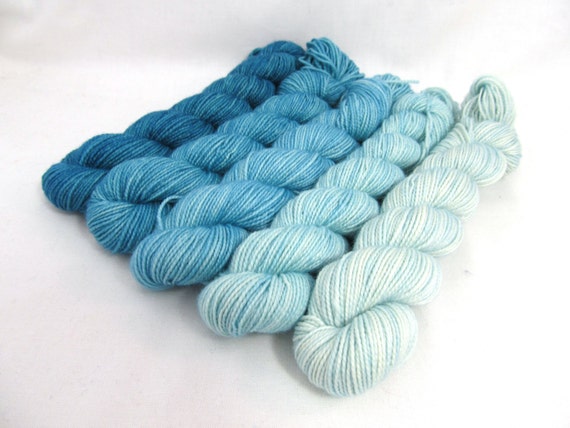 So there you have it, those are the yarns I am planning to use for this great undertaking!  Tomorrow I'll talk about needles and the pattern modifications I am using this time around!